About glocos International
glocos International Ltd is a young, vibrant, socially aware company founded in 2001, by individuals with some forty years experience, serving the cosmetics industry.
Recognising the industries highly competitive cost requirements and continued demand for the very best level of quality associated with cosmetic products we have striven to evolve to the next level of service and supply.
Manufacturing at our plants in the UK, Europe and Asia we have retained the fundamentals of product development within the United Kingdom working closely with our customers on a face to face basis to design and develop the optimum componentry and product to meet the demands of a fiercely competitive market place.
Product development from the conception of ideals, through design, development, prototype manufacture, test and approval is tightly controlled and presented as a complete package to our production plants, who in turn are highly knowledgeable and experienced in their own fields of manufacture.
Our stance, from the outset has always been and will continue to be to create a mutually beneficial relationship between our customers, ourselves and our manufacturing plants on a basis of equality.
We have striven to create a socially aware, global company where all parties work harmoniously together and believe our continued success can be attributed to the following key factors which lie at the root of all we continue to achieve:
Commitment to Quality and Service
Equality and Social Accountability
Communication and market awareness
Manufacturing knowledge and experience ensuring reliability, flexibility, consistency and continuity
Technological advancement and self sufficiency in manufacture
Innovation of both product and service
Location
Built around the core requirements of the BS EN ISO 9000 series of Quality Standards and the social accountability standard SA8000 we consider our objectives and commitment to our customers to be, at the very least, the supply of packaging and components for the application of product and cosmetic accessories:
At competitive prices
To the highest level of quality
Delivered on time to your door to any location worldwide and to agreed schedules
Guaranteed by Certification of Conformance or Analysis
Located on the east coast of England we enjoy localised access to deep sea ports for sea freight coupled with facilities in Heathrow catering for our airfreight. The main arteries of the M1, M11, M25 and M20 offer ease of access for freight around the UK and into Europe by road. Our local airport is but a twenty minute, direct flight from Schiphol International airport ensuring that we are never more than a few hours away from our multilingual colleagues based in our German offices and European customers wishing to meet.
Embracing these philosophies; we try our utmost to go beyond the ideals of customer satisfaction into the realms of customer delight, often going the 'extra mile' to ensure the realisation of timely product launches and the continuity of supply.
With these in mind, our ultimate goal is to become part of your team and not just another supplier.
From conception to design, through development to approval and manufacture to supply it will always be our pleasure to work with you.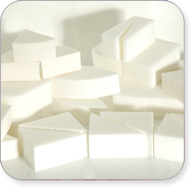 Latex Free Sponges Latex free and hypoallergenic this luxuriously soft cosmetic foam is rapidly becoming the preferred choice of both make-up artists and consumers. Medical origins ensure extreme purity and skin compatibility making hydrophilic foam ultra soft and...