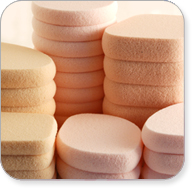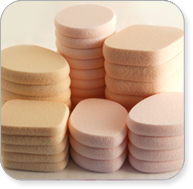 Premium NBR
Containing no natural latex our premium grade NBR sponge is luxuriously soft to the touch. Manufactured to the highest standard utilising environmentally friendly recycling processes with minimal waste, oil resistant, and not susceptable to swelling make it perfect for use in a compact or as a stand alone premium accessory.
Offered with three treatments as standard our sponge is manufactured utilising advanced technology to eliminate witness cut marks on the surface, often associated with standard methods of manufacture.
Treatments comprise – anti UV to prevent discolouring and degradation when exposed to natural light, anti copper to prevent discolouring when rinsing in clean water supplied to all households by copper pipes and anti bacteria.
Standard colours: white, pink, peach and almond
Custom colours: available
Size: Standard and bespoke available
Packaging: Standard and bespoke available