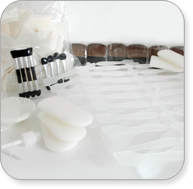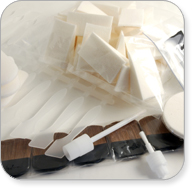 Business Tools
Demonstrators, agents and home based party planners are playing an increased role in the marketing and promotion of product . Additional costs are often incurred in supplying these key members of your Sales and Marketing team with the necessary accessories to enable them to show your formulations and branded products to their maximum effect.
Recognising this trend, we offer our 'budget' packs of accessories comprising the grades and quality of existing product applicators to enable the consistent demonstration of product performance.
Branded, where budgets will allow, we offer multi-packs of accessories including: Eye shadow applicators, cosmetic sponges and wedges, blusher brushes, lip brushes, powder puffs and spatulas.
Standard and custom multi packs are available.
Specifications
Standard sponge colours: white, pink, peach and almond
Custom colours: available
Size: Standard and bespoke available
Packaging: Standard and bespoke available.